POWERFUL BENEFITS OF CHLOROPHYLL
The Benefits of
Chlorophyll are not
widely known. In this
post I just want to
highlight a list of the
the benefits of this
powerful plant "blood"
so that you can do further research on your own. One thing I will share
with you that I have learned about chlorophyll, is that chlorophyll and
hemoglobin are nearly identical! Just look at the chart below!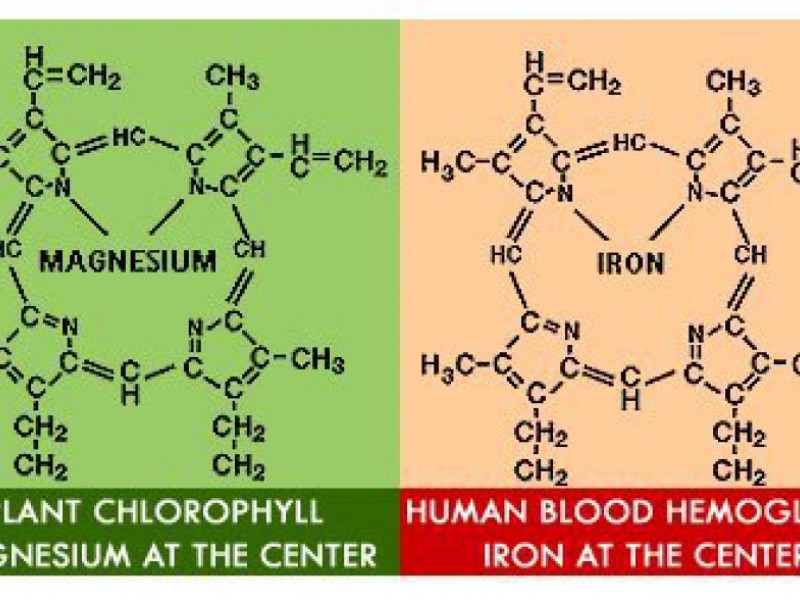 The only difference is that chlorophyll is structured around magnesium
and hemoglobin is structured around iron. If you swap the iron in
hemoglobin with magnesium it will become chlorophyll and vice versa.
Now who of us can say with confidence  this is not by DESIGN! This cannot
be understated, I  am amazed by this, because it has "intent" written all
over it. Clearly we are supposed to "eat green"  Just look at the living
moving cells of chlorophyll! No wonder it does "wonders" for  the body!
Well, anyway,  I encourage everyone to look into this I take it daily and I
highly recommend it! Below are the list of benefits!
Speeds red blood cell production
Cancer prevention
Kidney stone prevention
Treats arthritis
Fights bad breath and body odor
Powerful antioxidant
Detoxifies the blood
Delays aging
Digestive health
Prevents insomnia
Anti-microbial
Wound healing
Balances acid/alkaline (incredibly important!)
Boosts immune system
Treats pancreatitis
Strengthens bones
Treats anemia